It doesn't really matter whether our "core values" are based on our name or whether our name is based on our values. What matters is that this is what we believe and what we practice every day, on every project, with every client and every partner.
Red Apples Media founder, Marc Robertz-Schwartz, has a very simple philosophy – "Our worth is determined by the commitments we make and the integrity we have to keep those commitments." He is so passionate about these values that they appear throughout the Red Apples "Orchard" on the walls and on mouse pads. What are they, you ask? Is the suspense killing you?
Respect the Universe.
Excellence in everything – Period.
Deliver On Commitments. Over-Deliver on Expectations.

Anticipate client needs and opportunities.
People are our priorities. Relationships drive success.
Profits are a function of integrity, not sales.
Live for what you love. Work to make a difference.
Extraordinary is defined by actions, not words.
Solutions always provide more value than "No" or "I Can't."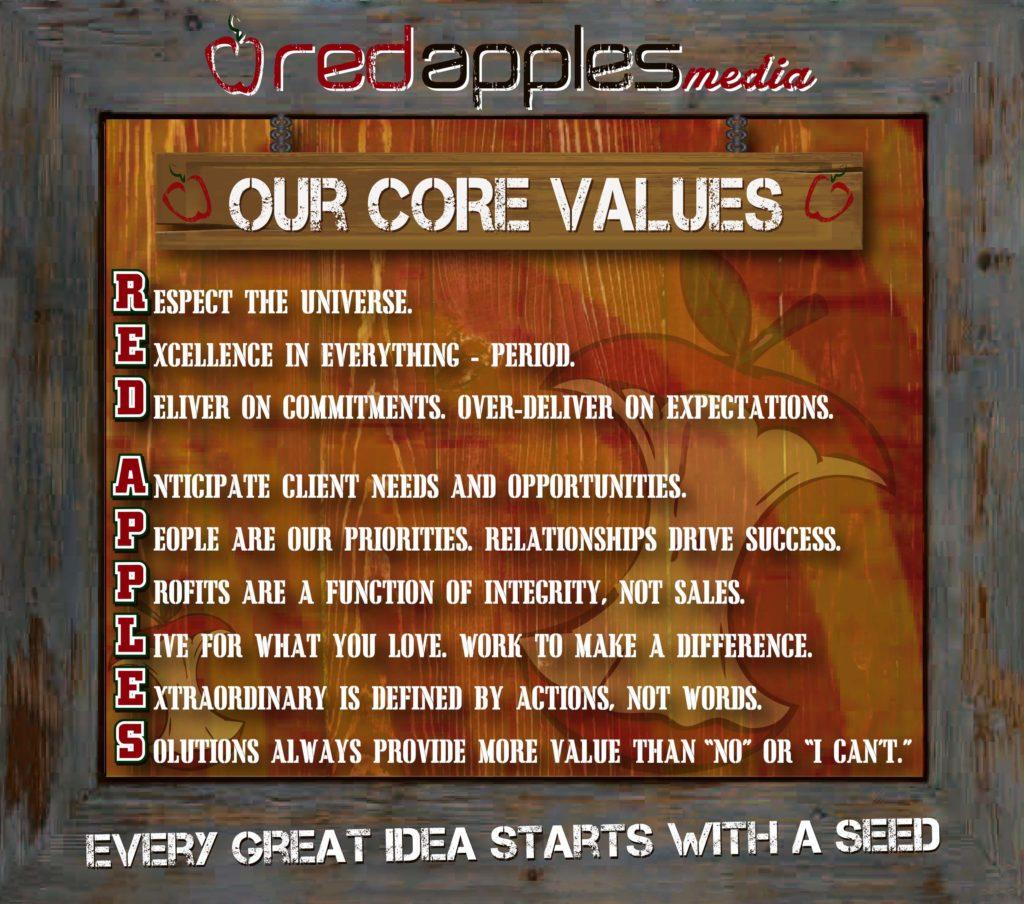 A Gut Check for Excellence
At Red Apples Media, we created a set of core values that drives what we do and how we do. Each letter stands for a different value, making it pretty easy to remember and stay true-to. For this post, we'll focus on the 'E' in "RED" which represents, "Excellence in Everything… Period."
It's a simple statement and one that many likely subscribe to in their own business. Or claim to. Or try to. Or wish they could. The fact is, I push everyone around me (including myself) for excellence in everything we do. I've been accused of pushing too hard, having standards that are too high, or never being pleased. All of these are true and I offer no apologies. Sadly, this demanding approach to how we do our jobs – whether an entrepreneur, athlete or restaurant server – is not the norm.
Our commitment to excellence is truly tested when we are under the gun.
Do we cut corners? Do we settle for "good enough?" And the candid answer is, "Yes. Sometimes we do." That led to our gut check last week.
As a video production company (among other things), we were starting to form a dangerous habit. We would send projects to clients for approval while we continued to tweak and fine-tune. We generally do this to expedite the project while we continue to put the finishing touches on the video. This is not uncommon in the business and we often send the work to be reviewed by the client with a note stating "we are still tweaking but looking for your initial feedback." And 9 times out of 10, the client will not notice the things that are still bothering us and require additional attention – that's what they pay us for. It's our deep attention to detail and delivering a "polished" project that has won us numerous awards and a great deal of repeat business.
Sometimes we borrow the sausage analogy in describing what we do and what our clients see; "You really don't want to know what goes into the sausage. You just want it to taste really good when you eat it."
On one project last week, we got busted. The client called us out on a substandard production. Understand, when I say "substandard," I mean 90% polished. These were subtle things that we were still working on, but this particular client was the 1 in 10 who caught most of them. By no means did it cripple the project, nor was the client upset. We were more upset than the client was – we let ourselves down and opened the door for other core values to be questioned. That was our gut check.
Could we truly stand for a core value of "Excellence in Everything. Period." if we were delivering anything short of excellent?
Even if only 1 in 10 would notice? We could not. And that was unacceptable. We recommitted ourselves to hold each other accountable to Excellence. One way we did this was to print mouse pads for the entire team with the core values right on them – a constant and convenient reminder of RED APPLES.
Excellence has to come from the core and extend to every level of the organization. Excellence isn't a part-time commitment. You're either committed to it or not. You may fall short on occasion but it should never be for lack of effort – sometimes you're just going to miss the mark.
It is the difference between a baseball player who runs out every-single-hit. Or the restaurant server who doesn't have to be asked more than once for a refill of water (if at all). In your business, there should be no gray area when it comes to excellence. It is an all or nothing commitment. Period.