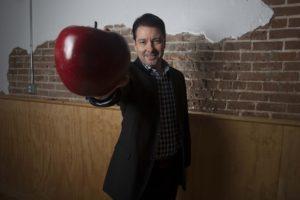 During our 18 months publishing Focus Magazine, our "Big Apple," Marc Robertz-Schwartz, had the chance to share some thoughts, philosophies and insights – many of which were directly or indirectly driven by our RED APPLES Core Values.  When we stopped publishing, the overwhelming (and flattering) feedback was, "We miss Marc's Remarks."  So, be careful what you ask for.  Marc will be using this space to share some new and previously published "Remarks" on a range of subjects; media, marketing, community, current events, society and anything else he thinks is worth getting on a soap box over.  Be sure to check back often!
---
Originally Published April, 2016
Back in April, 2016, I was beginning to sense a certain ugliness about campaigns, elections and candidates.  I'm a huge fan of the program, "The West Wing," so I always have a Hollywood skew as to what politics – at any level – should be like.  Two of our core values inspired this edition of Marc's Remarks when it was published…
---
Originally Published September, 2016
Our commitment to excellence is truly tested when we are under the gun.  Do we cut corners?  Do we settle for "good enough?"  And the candid answer is, "Yes.  Sometimes we do."  That led to our gut check last week.
---
Originally published in Focus Magazine, May 2016
How did a ride-along with the Lake County Sheriff's sector commander reaffirm the importance of TWO of Red Apples Media's core values?  Read how an evening that included a known prostitute, a bloody domestic dispute over a cell phone and a heart breaking bust of two young mothers for drugs impacted Marc… to the core.