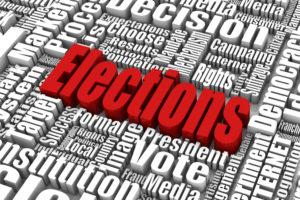 Back in April, 2016, I was beginning to sense a certain ugliness about campaigns, elections and candidates.  I'm a huge fan of the program, "The West Wing," so I always have a Hollywood skew as to what politics – at any level – should be like.  Two of our core values inspired this edition of Marc's Remarks when it was published;
     (P)eople are our priorities.  Relationships drive success.
     (E)xtraordinary is defined by actions, not words.
Less than a week before we cast our vote for local, state and national candidates and amendments, the timing of this seemed well-timed…
---
Originally Published April, 2016
By the time this prints, Super Tuesday will be in the rear view mirror and there is a really good chance we will know who the presidential candidates will be.  The election season – both locally and nationally will be kicking into high gear.  And while there is a great deal of attention being put on the presidential races right now, I implore you to take time to begin to understand the local issues, candidates and races.  The truth is, while voting for president is extremely important and one of our greatest democratic rights, who we elect locally will have a more direct impact on our lives, our businesses, our students, our safety and our homes, to name a few.
I get that selecting a circuit court judge is not particularly sexy.  I get that if you don't have a child in Lake County Schools that you may not have a particular interest in the school board candidates.  However, the quality of our schools will absolutely impact your life; directly and indirectly.  The school board member you elect might very well institute a program or fund a resources (or not) which may lay the groundwork for a local student to become your nurse, attorney, restaurant owner or local librarian in a few years.
Take time to learn about the candidates and what they stand for.  I would also strongly suggest that running for political office is the ultimate job interview.  In "the real world," we hire people based on their credentials, track-record, integrity, experience and his or her ability to bring something unique to the organization as well as compliment the culture.  I have never won a job nor have I ever hired someone based on the "trashing" of other candidates up for the same job.  We should demand the same professionalism and "clean campaigning" from our local candidates.  I was at a luncheon recently and the analogy of the ultimate job interview was echoed nearly word-for-word by a county commissioner candidate.  I look forward to seeing if that individual walks-the-walk. While it can get entertaining at times to watch the mudslinging and social media punch lines, it is time to hold the 2016 candidates – at all levels of local government – to a level of civility, productivity and accountability during their campaigns.
While voting is one of our greatest rights, casting an educated vote is one of our greatest responsibilities.